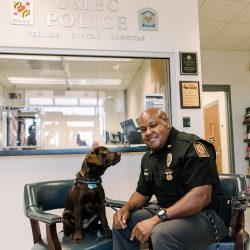 Sergeant Cheatem and Officer Chip sit down for a job interview.
Monday through Thursday, he's your average student. But once Friday rolls around, UMBC sophomore Devin Meeks packs his bags and does a forward 180, traveling the world for his part-time job: professional jump roper.
Henge
After a sculpture titled, Forum, by Thomas Sayre
Outside the glass wall
That separates us
From the cold and below,
Covered with an icing
Of melting...