If you're wondering who's behind UMBC Magazine, look no further than the Alumni House basement. There, a team of writers and designers — many of them alumni themselves — are working to create an intellectually stimulating, diverting magazine they hope will make you proud. Contact UMBC Magazine.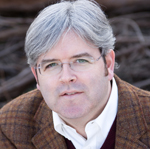 Richard is the founding editor of UMBC Magazine. He has worked as an editor at The Chronicle of Higher Education, Washington City Paper and St. Louis Magazine. His freelance writing has appeared in The Washington Post, The Guardian, Time (online), and Foreign Policy. In his spare time, he writes plays. As a student at UMBC, Richard edited Bartleby and lived in the Chesapeake and Patapsco residence halls.
Jim Lord '99, Visual Arts
Design Director
jlord1@umbc.edu
During Jim's final semester at UMBC, he worked as the part-time web assistant for UMBC's Creative Services, and he's been with the group in various roles ever since. In his current position as Design Director, Jim oversees the day-to-day operations of the studio and continues to design tons of stuff for the campus community. Jim transferred to UMBC in 1997, and while here spent most of his time focusing on his design degree, playing intramural sports, hanging with friends, and driving to the Sip 'n Bite, Double T Diner, and the Paper Moon Diner (he loves pancakes). He was a resident of the Terrace and West Hill apartment communities and has fond memories of Dogapalooza, Quadmania, and the original Chick-Fil-A in the Pub (not the new one that's here now).
Candace Cage
Designer
candacec@umbc.edu
Originally hailing from New York, Candace graduated from Loyola University in Maryland (back when it was still a College) with a B.A. in Communication with a specialization in Digital Media, and an Art History minor. She later completed her M.A. in Publications Design at the University of Baltimore. She loves packaging design, is an avid collector of wine labels, and is obsessed with all things John Mayer.
Marlayna Demond '11, Visual Arts
Photographer
mdemond1@umbc.edu
Marlayna originally joined the Creative Services team as an intern during her final semester as a photography student at UMBC. After graduation, she made the leap to become a freelance photographer, opening her own business focused on event, editorial, and lifestyle portraits. She is now Creative Services' full-time staffed photographer and is glad (despite the surreality) to be back walking around campus on a regular basis again. During school, Marlayna livened up her senior year playing Ultimate Frisbee. In her free time she likes going to concerts, traveling to different cities and exploring, or just catching up with friends at coffee shops.
Jenny O'Grady
Associate Editor
jogrady@umbc.edu
Jenny earned her bachelor's degree in English from Goucher College, and her M.F.A. in Creative Writing & Publishing Arts from the University of Baltimore. She has worked as a newspaper reporter, a graphic designer and an editor. Currently, she is director of marketing at UMBC. She enjoys hiking, running, poetry, book arts, the interwebs, comic books, and zombie movies. See more of her work at kineticprose.com.
Layla Thompson
Digital Designer
layla@umbc.edu
Layla received her bachelor's degree from Stevenson University in Visual Communication Design. As a Baltimore native, Layla is studying for her M.F.A in Integrated Design at the University of Baltimore. She has a strong interest in typography, and enjoys both print and web design. Her creative inspirations stem from her desire to try new ideas, her love for animals, and a wide variety of music.
Dusten Wolff '13, Visual Arts
Digital Designer
dusten1@umbc.edu
During his final semester at UMBC, Dusten worked with the Student Events Board as a Design and Marketing Director. After graduating, he joined the front office staff of the Baltimore Orioles as the Assistant Graphic Designer for the majority of two seasons. He is always on the lookout for design ephemera of the past to add to his collection, or to inspire new ideas.